Echoes of the City
A jewel of modern Norwegian literature now hailed as Lars Saabye Christensen's crowning achievement – an intricate and utterly compelling narrative.

Christensen is one of Scandinavia's finest and most celebrated storytellers, who has devoted the best part of his career to writing about the city of his birth. As Oslo slowly emerges from a period of crippling austerity, Echoes of the City shows how small, almost imperceptible acts of kindness and compassion, and tiny shifts in fortune, can change the lives of many.

At the centre of the novel are Maj and Ewald Kristoffersen and their son Jesper, their lives closely entwined and overlapping with their neighbours' on Kirkeveien. When the butcher's son Jostein is knocked down in a traffic accident and loses his hearing, Jesper promises to be his ears in the world. The arrival of a long-awaited telephone is a major event for Maj and Ewald, and meanwhile their neighbour, recently widowed Fru Vik, tentatively takes up with the owner of the bookshop near the cemetery. The bar at Hotel Bristol becomes a meeting place for all of them – for Ewald and his advertising colleagues, for Fru Vik and her suitor, to the piano playing of hapless Enzo Zanetti, an immigrant down on his luck, who enables Jesper to discover his true passion.

The minutes of the local Red Cross meetings give an architecture to the narrative of so many lives and tell a story in themselves, bearing witness to the steady recovery of the community. Echoes of the City is a remarkably tender observation of the rhythms and passions of a city, and a particular salute to the resilience of its women.

Translated from the Norwegian by Don Bartlett
Read More
Reviews
A portrait formulated with the poetic melancholy so typical of Saabye Christensen at his best.
Lars Saabye Christensen at the height of his powers.
The kind of novel that does not shout loudly, but is borne along by fine characterisation and wisdom disguised as sparkling gold grains, consolidating Lars Saabye Christensen's position as Oslo's premier home-town poet
Events
Lars Saabye Christensen in conversation with Georgina Godwin at the British Library
Knowledge Centre
7th Oct 2019 7:15 pm
Best-known in the UK for his bestselling novel The Half Brother, Norway's Lars Saabye Christensen speaks to Georgina Godwin in a rare UK appearance about his latest novel in translation, Echoes of the City, which traces an Oslo community's slow recovery from a period of crippling austerity following World War Two.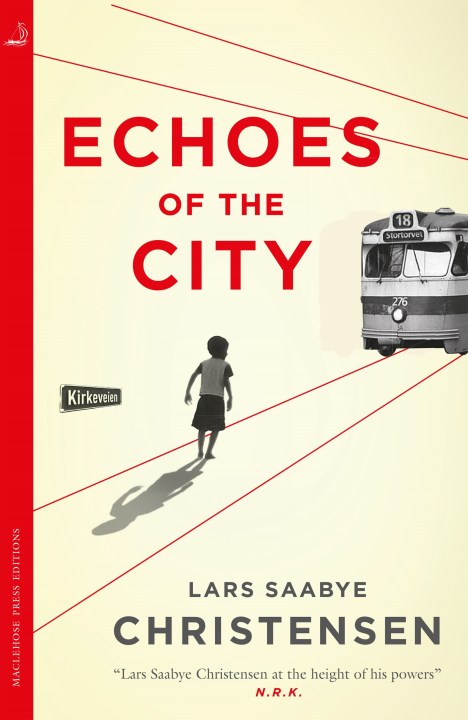 Echoes of the City at Free Word
Free Word
8th Oct 2019 7:00 pm
In this current moment of global austerity, what can we learn from past stories of the cities, communities and families that have rebuilt themselves following economic instability? Join us for an intimate conversation with Lars Saabye Christensen, one of Scandinavia's most celebrated storytellers, Akil Scafe-Smith of RESOLVE, the interdisciplinary design collective behind our new season…