At MacLehose Press we love prizes. Not so much your common or garden prizes like the Booker or the Samuel Johnson. More your Premio Campiellos or Golden Owls – the most prestigious literary prize in Flanders . . . as if you didn't know.
And the thing about having authors on the list from so many countries is that at any given moment a MacLehose author is – somewhere in the world – accepting a prize. An exaggeration? Well, perhaps, but at this given moment there are a number of MacLehose authors on various long- and shortlists around the world.
Anuradha Roy's second novel, The Folded Earth, is on the shortlist for the India's Economist Crossword Prize, which gave her a sense of deja vu because An Atlas of Impossible Longing, her first novel, was also shortlisted. Today we hear that it is also on longlist for the DCS Prize for South Asian Literature.
Meanwhile, French author Jérôme Ferrari is still in the running for The Prix Goncourt with his novel Le sermon sur la chute de Rome (Sermon on the Fall of Rome). He has made the second selection and will find out at the end of the month whether he is on the shortlist. His first book in English translation, Where I Left My Soul, is out this month in Geoffrey Strachan's translation.
Meanwhile, Peter Terrin's latest book, Post Mortem, is on a six-book shortlist for the Netherlands' A.K.O. Literatuurprijs (even though Terrin is Belgian – but he writes in Dutch). His first book in English translation, The Guard, has also just been published by MacLehose Press.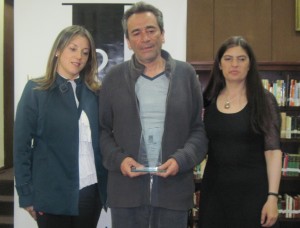 And finally, Evelio Rosero, author of The Armies and Good Offices in English translation, was recently presented with the award naming him the winner of the ninth "Libros y Letras" National Literature Prize awarded by this prestigious literary magazine. The winner is chosen by the readers of the publication and the news agency of the same name, directed by journalist Jorge Consuegra. "This is the best prize I have received in my life, as it is chosen by people who read my books and buy them and by not a small jury. Thanks to all the readers," he said upon receiving the award.
So congratulations to Senor Rosero and the very best of luck to Anuradha Roy, Jérôme Ferrari and Peter Terrin.