I was going to write a piece about the sweetest, most inspiring translated love stories I have read, but I didn't get any Valentine's cards today and I'm in a bad mood, so I've decided to write the opposite. Please let me know about any translated love stories of note I may have missed, anti- or otherwise. In fact, no, just anti-.
Bonjour Tristesse by Françoise Sagan
Ah! Bonjour Tristesse. It has been included in cialis generic for sale Penguin's Great Loves series, which seems a little strange since selfishness and disillusion seem to be a lot more relevant to the story than love, let alone epoch-defining passion. Still, it's a fabulous, fabulous book, one that made its teenage author an overnight star when it was published in 1954. I'm afraid I'm canada pharmacy viagra slightly hazy on the story as I haven't read it for twelve or so years, but at the time the impact it had on me was akin to being picked up and thrown down the stairs.
Spring Torrents by Ivan Turgenev
A wonderful slice of Turgenev-cheese this, one the academics would undoubtedly label "sentimental". But never mind them, it's great. As a young man, it is hard to pharmacy canadian decide which is more attractive: the young, beautiful, innocent girl-next-door type, or the slightly older vampish, dangerous seductress. Well, unfortunately for Dimitry Sanin, he meets both in the space of a few months, and though he lives to tell the tale, the better life he might have lived is lost for good. pharmacy in canada It's kind of sappy, but it all goes wrong at the end, so it makes the list.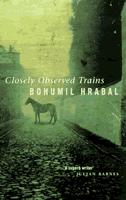 Closely Observed Trains by Bohumil Hrabal
Czech author Bohumil Hrabal is surely one of the twentieth century's greatest writers. This may not be his greatest book, but it is the one that fits best our theme. In the final year of WWII, Milos Hrma is working as an apprentice at a strategically vital railway station in Bohemia. Desperate to alleviate his problems with "ejaculator praecox", he is driven as far unsuccessfully slitting his wrists and ends up using those two words to proposition every woman in sight. generic cialis Until, that is, he is propositioned himself . . .

Adolphe by Benjamin Constant
When I worked in a bookshop, this was given to my a propos of nothing by my employer one day: "a good book about obsession". Adolphe is a cautionary tale that reminds the reader to be careful what they wish for. A gifted but terminally bored young man decides to woo the beautiful Ellenore, mistress of an influential aristocrat. He turns some pretty dirty tricks to seduce her, but, of course, once it's done he wants her no more and their lives and place in society are deeply compromised by their scandalous affair. Not quite sure how it ends, because I left it in the pub.
Lobster by Guillaume Lecasble
This was introduced to me by the same employer as "a surrealist classic". That it certainly is. I'm going to quote from the publisher's blurb because to write about it needs too much thought: "Aboard the Titanic, Lobster watches Angelina devour his father before being plucked out of the aquarium himself. Just as he is put in the boiling pot, the ship hits the iceberg and the pot is thrown to the floor. Lobster survives, with some changes: he finds himself sexually attracted not only to a human, but to the very human who ate his father. He gives her one life-changing orgasm before their tragic separation, following an ugly incident in one of the lifeboats." It's good.