Jón Kalman Stefánsson's English-language début, Heaven and Hell, is one of the most poetic and beguiling android app to spy on someones phone novels to have been published in this – or any other – year. It has also been translated to widespread acclaim into French and German. Stefánsson won the Icelandic Literature Prize in 2005 for Sumarljós og svo kemur nóttin (Summer Light and Along Comes the Night) and he has thrice been nominated for the Nordic Literature Prize. Heaven and Hell is now being developed into a trilogy, the second novel of which, The Sorrow of Angels, was published in Iceland in 2009.
Paul Engles: Where did you first get the idea for the story of Heaven and Hell?
Jón Kalman Stefánsson: I could say; from a radio program fifteen years ago. There was 30 minute program about a woman who lived in north Iceland around 1860. She was a very rich widow (rich, in an Icelandic sense…) who got into conflict with her surroundings, being powerful a woman living under a dictatorship of men. In the end they broke her. The moment I heard the program, I knew that was something to write about. But I was not ready at that time. It's a tricky thing, writing a historical novel, one could go so far as to say that the historical novel is dangerous for authors. And that's because of the form. Those who write historical novels tend to, well, lose their character, their style. The narrative and the plot are so strong in this genre, the authors are so eager to capture the time they are writing about, are so immersed, that their style almost seems to vanish.
Anyway, I knew that if I should write that kind of novel my way, I had to have good experience in fiction; had to collect some weapons before I attacked the historical genre. That to say, if I wanted to survive that war.
Paul Engles: What next for the boy? Does his story continue in your next book, The Sorrow of Angels? Will he ever be named?
Jón Kalman Stefánsson: Yes, his story will continue. He is, for my part, the main character. And he will surely get the name every reader will give him…
Paul Engles: Throughout the novel there are short commentaries by spirits, perhaps,who call themselves (in English translation) "Nearly Darkness". Can you tell us a little more about them?
Jón Kalman Stefánsson: Well, they seem to be a small group of dead people, stuck somewhere between life and death. They are dead, but are, for some reason, stuck. Dead, though they feel using cell phone camera spy life, feel the heartbeat, and have been like that for many, many years. They despair, longing for something, God, maybe forgetfulness, or just a way out. And therefore they tell this story, almost as if the story were their atonement.
Paul Engles: The first part of Heaven and Hell is set amongst fishermen at the turn of the century. In general, do you think Icelandic people still feel close to and identify with their seafaring heritage?
Jón Kalman Stefánsson: The sea, or rather the fishing, has always been strong part of the everyday live in Iceland, and played a huge part in our economy. But strange as it seems there are not so many novels or short stories,about that life, the life of a seaman, the struggle, the hardship. But for some time, say between 1950 and 1970, we had a great number of popular songs (pop songs) about the lives of seamen – most of them extremely silly; the sailors were all heroes, never afraid, drank a lot, were surrounded by women . . .
Paul Engles: You published poetry before making your fiction début. How do you think your early career as a poet has affected your prose?
Jón Kalman Stefánsson: I sometimes think that I'm a poet writing prose, novels. I like telling stories in my writing, but the poetry must be there too. The technique of poetry, the irrational way of thinking; that's important in prose. As one sees in novels written by authors like Javier Marias, Jose Saramago, Herta Müller, or, to name some classics, Melville and Knut Hamsun.
Paul Engles: You are also a writer of short stories. Do you consider novels and short stories as very distinct, separate forms, or do you think there is overlap between their techniques and possibilities?
Jón Kalman Stefánsson: Short stories, well, people tell me that my first prose book, Ditches in Rain, is a collection of short stories. That may be right, but I didn't think of it like that, in my mind I was writing a novel. I can't write short stories, at least not good ones. Short stories and novels are separate forms, and I sometimes think that it's much more difficult to write a good short story than to write a good novel, whether we are talking about stories in the classic tradition, like Carver, or the "new" way, such as we see in Brautigan's stories. Sadly people don't read enough short stories today – we live in the time of the novel, best-selling novels and crime novels.
Paul Engles: When you write, do you have a clear idea of where the story is going, or does it tend to carry you away with it?
Jón Kalman Stefánsson: I sometimes think that I have a pretty clear idea, but almost all my plans go up in smoke when I start to write. The original idea for Heaven and Hell, for example, was with me when I was preparing the work (which took me about a year). I just movec it around a bit in time and place, but then changed it almost completely as soon as I started to write. And I'm never sure where the story is going as I write it. I have some idea, of course, but I'm always pleased when something quite unexpected pops up. There should always be some kind of adventure in fiction, something we don't understand completely. I doubt that the author can think of everything, that he can draw the novel up in detail before he writes it, because fiction is, or should be, cell phone spy app something that comes from the depths, something we can't predict, something that comes from author's feelings, dreams, half-forgotten or forgotten memories, from something he has heard or experienced either without noticing, or has forgotten all about it. In other words, I don't believe that one can write a novel without something unexpected coming up, a lot of unexpected elements – and that something is, of course, the fiction.
Paul Engles: One of the characters in Heaven and Hell forgets to prepare for a fishing trip because he is too engrossed in Paradise Lost. Are there any books or authors that draw you in and make you forget the world around you?
Jón Kalman Stefánsson: Forget the world? Well, it did happen, often, say twenty, twenty five years ago. In those days some books, some poems, took me away. Authors like Steinbeck, Mikhail Bulgakov with his Master and Margarita, the Danish Martin A. Hansen, of course Knut Hamsun, Halldór Laxness, Dostoevsky, and then the poets . . . I'm afraid that it doesn't happen as often now, but it does sometimes, happily. I totally forgot myself when I read the first book by Jose Saramago ten years ago, and a good poem always takes me away, whether by poets like Adam Zagajewski, Szymborska, Pessoa, or lines from a story by Herta Müller.
Paul Engles: Can you think of an Icelandic writer who really should be translated into English, but hasn't yet been?
Jón Kalman Stefánsson: There are a few writers who have been translated but are rather unknown, older authors (classics) like Gunnar Gunnarsson; his book The Good Shepherd, came out in English in1940, sold 250,000 copies in the USA, and influenced Hemingway in The Old Man and the Sea – and myself in Heaven and Hell. You can find authors like Bragi Olafsson and Gyrdir Eliasson, my contemporaries, in fine translation, they are very good. But you don't have our classic authors like Thorbergur Thordarsson, from almost the same period as Halldor Laxness, he is extremely original. And you don't have our great poets, such as Hannes Pétursonn (born 1931), who would be world famous if he wrote in one of the "bigger" languages.
Paul Engles: Heaven and Hell is interesting because, on the one hand, the way the story is told feels quite unique and innovative, but on the other hand, it is such a poetic, beautiful novel. How would you describe your style as a novelist?
Jón Kalman Stefánsson: That's something that I don't think about, how to describe my style, but I try to use the poetry, a rhythm of the breath, heartbeat, the music I hear deep in the language, to enlarge or expand the words, so they can stimulate both the wits and the senses of the reader.
Paul Engles: How do you write? On paper first, or directly onto a screen?
Jón Kalman Stefánsson: I always write the first draft with pencil, let it rest for some time, maybe three or four months, and then start to type it onto the computer. Then I read it, re-read it, change a little here, a lot there, etc.
Paul Engles: Have you always felt destined to be a writer, or did you have other ambitions?
Jón Kalman Stefánsson: When I was ten I wanted to reunite The Beatles – much later I wrote a novel about it. I also wanted to be best friend of the goalkeeper Pat Jennings, and even more so the best friend of Tarzan – together we would save the world. At eighteen years old I dreamed of becoming an astronomer – after I had watched T.V. programmes where Carl Sagan talked about the universe. I was completely overwhelmed by the richness and the mysteries of the universe – later I understood that this richness and mystery are in some way essence of fiction.
Paul Engles: One of your Icelandic readers complained on Twitter that the characters in the final story of the book Sumarljós og svo kemur nóttin didn't get the happy ending they deserved. What happened to them?
Jón Kalman Stefánsson: Sumarljós, og svo kemur nóttin (Summer Light and Along Comes the Night), is a novel, but with many combined stories, stories about people in a small village and the country around it, in our time. And, as it happens in life, some stories end in sorrow, others don't. Someone dies much too quickly, and maybe in the midst of happiness, and that's a blow. In short: a woman dies, the man does not, and the only thing he has left is his sorrow, his dog, and a great stone, a rock, to smash. And when the rock is smashed – what's then left?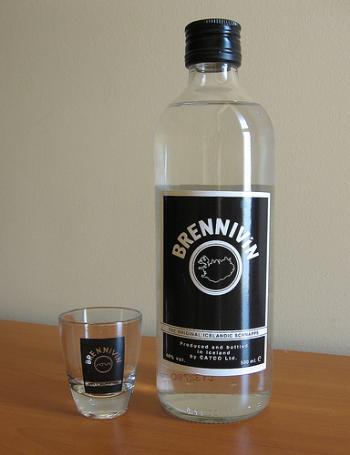 Paul Engles: I have a bottle of Brennivín, an spy phone app Icelandic Schnapps, on my desk that was given to us at Frankfurt. The characters drink it in Heaven and Hell. What's it like? How should I drink it? Is there particular dish from Iceland it goes well with?
Jón Kalman Stefánsson: Brennivín is an ideal shot. Very good and "clean". But best to drink it ice cold, keep it in the freezer, and then you have a good snaps! Usually we don't eat with it, but if we do, then it is shark – rotten shark. Some hate it, others love it . . . (Rotten shark: a shark which has been cured with a particular fermentation process and hung to dry for four to five months.)